SHIFAA NUTRITION HALAL CERTIFICATION
SHIFAA NUTRITION is a halal brand that you can trust. We strive for quality and customer satisfaction.
Not only our products contain HALAL ingredients, all our products are NATURAL and HALAL CERTIFIED by ISA and AHF.
ISA Certified Products
Most of our products are HALAL certified by ISA (ISLAMIC SERVICES OF AMERICA).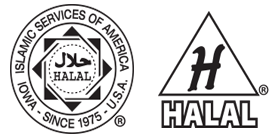 ISA upholds the Halal certification standards, protocols, rules and regulations that are monitored and/or enforced by the international Halal governing Authorities and is a founding member of the World Halal Food Council.
ISA is one of the pioneers to establish HALAL certification authority in the USA, and due to its quality certification standards, ISA's halal certification is accepted Internationally as well. 
AHF Certified Products
Our Softgels and Proteins are halal certified by  AHF (AMERICAN HALAL FOUNDATION) 
AHF certification provides companies around the world with a symbol of halal that gives consumers the utmost confidence in the food they eat.